KSV NIMA Langmuir 와 Langmuir-Blodgett Troughs (KSV NIMA L & LB Troughs)눈 측면압축밀도의 정밀한 제어로 단분자막을 조작하고 특징짓기 위하여 사용됩니다.

단분자막에서의 분자의 독특한 성질의 특징화 연구에 이용되며, 본 장비는 또한 Langmuir-Blodgett 또는 Langmuir-Schaefer 증착기술을 사용하여 단분자막의 전송에 사용됩니다. 이 것은 두께, 분자의 방향 과 압축 밀도의 정밀한 제어로 단층 또는 다층막의 제조를 가능하게 합니다.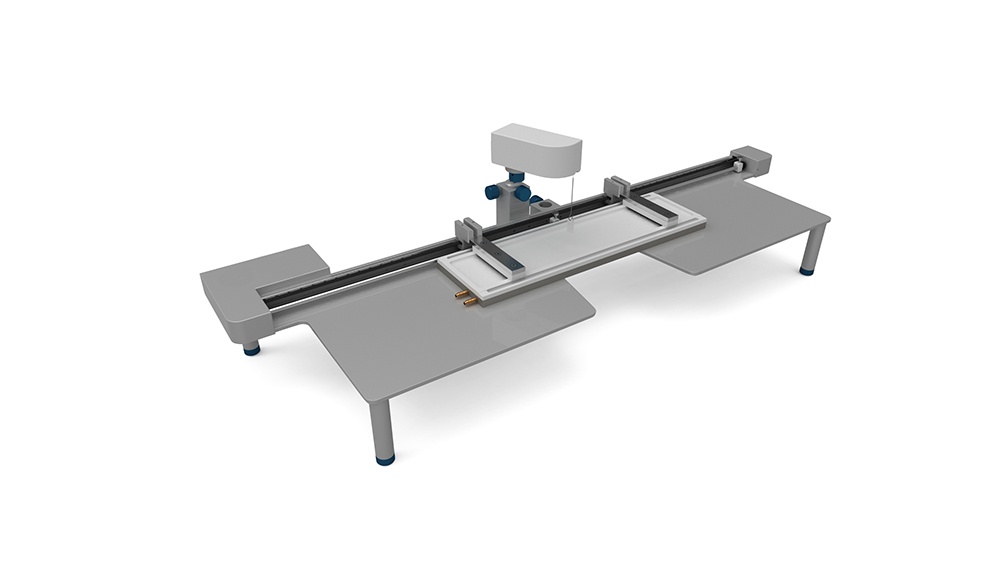 • 실험에 대한 완전한 제어:
o 강력하고 직감적인 소프트웨어는 초보자와 능숙한 사용자의 요구를 모두 만족합니다.
o 매우 민감한 표면압력센서는 극도로 정밀한 측정을 위함. 모든 조건을 만족하기 위해 백금플레이트, 백금로드, 종이플레이트를 프로브로 사용할 수 있습니다.
o 개방형 디자인 과 모듈화는 enables easy placement of trough tops을 프레임에 쉽게 장착이 가능하게 하고, 수 초 내에 쉽게 다른 trough top으로 교체가 가능하게 하고, trough top 표면을 쉽게 세척 할 수 있게 합니다.
o Langmuir와 Langmuir Blodgett trough tops은 최적화된 청결과 신뢰성을 위해 한 조각의 순수한 PTFE로 만들어 집니다. 이 독특한 This 이 독특한 디자인은 디핑웰을 포함하여 trough top의 어느부분에서도 그 어떠한 누수를 방지합니다.
o 배리어는 단분자막의 안정도를 향상시키기 위해 Delrin (hydrophilic)재질로 만들어집니다. PTFE (hydrophobic) 재질의 배리어도 공급이 가능합니다. 견고한 금속프레임은 배리어가 시간이 지남에따라 변형되는 것을 방지합니다.
o 얇은 프레임 디자인으로 인해 PM-IRRAS(infrared spectroscopy), Brewster Angle Microscopy, 형광현미경과 같은 광학특성 기술과의 조합이 가능합니다.
o 균질한 패킹의 표준으로서의 대칭적인 배리어 압축. 한 쪽 배리어 압축도 또한 모든 장비에서 가능합니다.
o 중심에 있는 디핑웰로 인해 균일한 단분자막 LB 증착이 가능합니다.
o 외부 워터배스서큘레이터에 의해 작동되는 알루미늄 히팅/쿨링 플레이트에 의해 액체의 온도제어가 용이합니다.
o 조절가능한 다리로 인해 빠르고 정확하게 Trough의 수평 맞추기가 가능합니다. 다리는 현미경위에 Trough를 놓기 위해 쉽게 제거 가능합니다.

• 다양한 악세서리 (Horizontal dipping clamps, Surface Potential Meter, pH probe, etc.)
Applications

• 생체막과 세포막 모델, 구조적변화와 반응, 약물전달과 같은 생체분자 상호작용
• 나노파티클, 나노튜브, 나노와이어, 그래핀의 기능적인고 새로운 코팅
• 중합, 면역과 효소반응, 바이오센서, 흡착과 탈착 같은 계면반응
• 분자구조와 방향특성, 공식화, 에멀션, 콜로이드와 거품안전성과 같은 계면활성제와 콜로이드 연구
• 팽창유동학, 계면전단유동학과 같은 박막의 유동학

Product Details

The most popular L & LB trough systems are presented in the following table.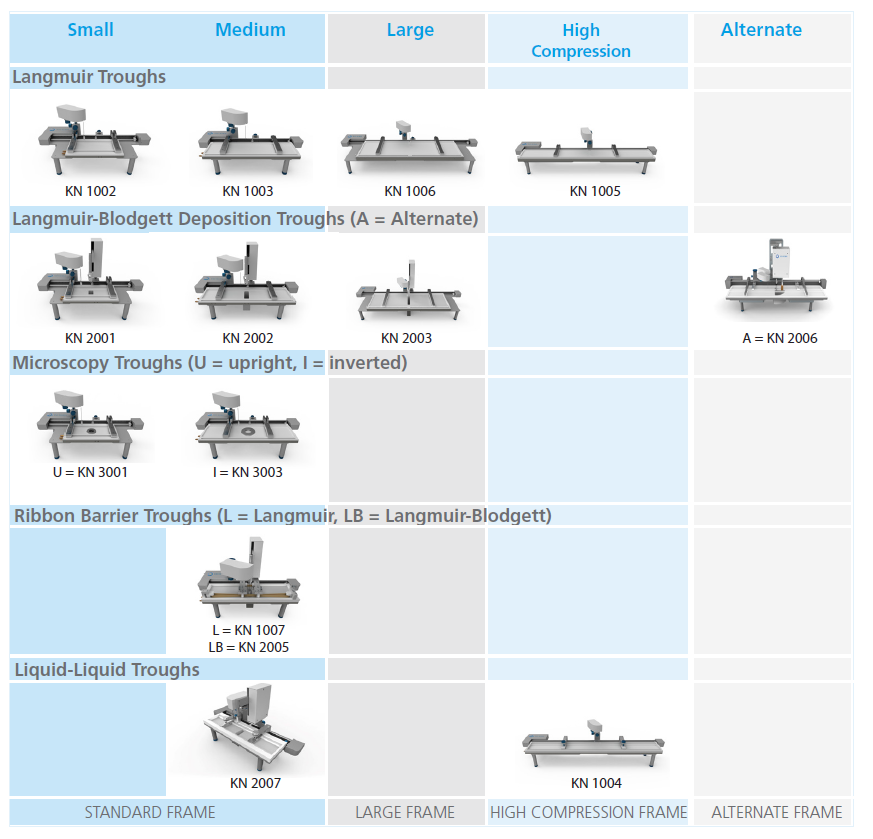 KSV NIMA Langmuir Troughs

표준 랭뮤어 트러프는 여러가지 크기가 있습니다 : 엑스트라스몰(스몰 보다 면적은 크고 볼륨은 적음), 스몰, 미디움과 라지. 모든 시스템들은 랭뮤어, 랭뮤어-블로젯과 마이크로스코피 구성간 쉽게 전환이 가능합니다. 세가지 더 작은 트러프들은 언제든지 트러프탑 사이즈를 바꿀 수 잇도록 같은 프레임을 사용합니다.
고압축 트러프는 고압축비가 가능하고 KSV NIMA Interfacial Shear Rheometer (ISR)를 위해 특별히 디자인 되었습니다. The 고압축 트러프는 또한 Brewster Angle Microscope (MicroBAM), Surface Potential Sensor, PM-IRRAS 과 다른 특성화 장비들의 성능 향상을 위해 사용될 수 있습니다.

The Liquid-Liquid Langmuir Trough is available for monolayer studies at the liquid-liquid interface (typically, oil-water). The Liquid-Liquid Trough top is also compatible with the High Compression Trough.
The KSV NIMA Microscopy Trough is a special kind of Langmuir Trough, which contains a sapphire window in the trough top base allowing high optical transmission down to a wavelength of 200 nm (suitable for visible light or UV microscopy). The Medium and the High Compression Troughs are both suitable for upright and inverted microscopy. The Small Trough can be used for upright microscopy.

For more information about Langmuir film microscopy, see:

• Langmuir Film Microscopy
The Langmuir Ribbon Barrier Trough
enables the study of floating monolayers at high packing densities (e.g. > 70 mN/m for DPPC) by monolayer confinement. Working at high surface pressures is required to study phenomena such as lung surfactant (DPPC) behavior in alveoli.
KSV NIMA Langmuir-Blodgett Troughs
The KSV NIMA LB Trough is also available in several sizes (Small, Medium and Large) and includes the same system flexibility between the Langmuir, Microscopy and Ribbon Barrier configurations.
You can deposit LB films on samples ranging in size from a few square millimeters to many tens of square centimeters. Dipping well dimensions, and hence suitable substrate areas, are dependent on the model of trough and trough tops (see Specification Table). The LB dipping mechanism can also be fitted with a LS deposition kit for horizontal Langmuir-Schaefer Deposition.
The KSV NIMA Alternate Layer Deposition Trough enables simultaneous creation of two Langmuir films in two separate compartments. The sample can be moved through any of the two monolayers in the desired order. It is available in two sizes—standard and large.
Many experimental techniques can be used to further investigate monolayers at the gas-liquid interface even before deposition, including Interfacial Shear Rheometry, PM-IRRAS, Brewster Angle Microscopy andSurface Potential Sensing.

KSV NIMA LB Software
The KSV NIMA LB software is very intuitive and easy to use. It allows the user to perform a variety of pre-programmed methods that cover the most common L and LB film experiments. These pre-programs can be modified further for particular needs. A wide range of data and parameters can be recorded and the desired data can be easily plotted. The recordable parameters are: data point number, time, barrier position, barrier speed, trough top area, molecular area, dipper position, dipper speed, layer number, transfer ratio, cumulative transfer, temperature, pH and surface potential. The software is Windows 10 compatible.
Standard programs include:
Compression/relaxation isotherms Measuring surface pressure as a function of mean molecular area, remaining area, time or any other measured parameter.
Analysis of monolayer kinetics Enzyme kinetics, monolayer hydrolysis, polymerization, or any other zero-order reactions.
Analysis of monolayer penetration, solubility and binding of biomolecules Enzymes, proteins, peptides etc.
Isochores and Isobars Increase or decrease of surface pressure/temperature, surface pressure/time, or surface pressure/any desired measurable parameter can be plotted.
Dilational rheology Oscillating barriers for monitoring viscoelastic properties at desired surface pressure.
Dipping Both Langmuir-Blodgett and Langmuir-Schaefer modes allow the control and monitoring of surface pressure, dipping speed, stroke length, deposition profiles and transfer ratio.

After an experiment has been performed the user can return to the data for further analysis in the data reduction and analysis section. After selecting an experiment the data for that experiment will be displayed. Different experimental data can be displayed on the same graph for comparison. Calculation of additional results and export of data can be done. There is an option of viewing and editing the experimental setup if the data needs to be recalculated with new information about the materials.
Technical specifications