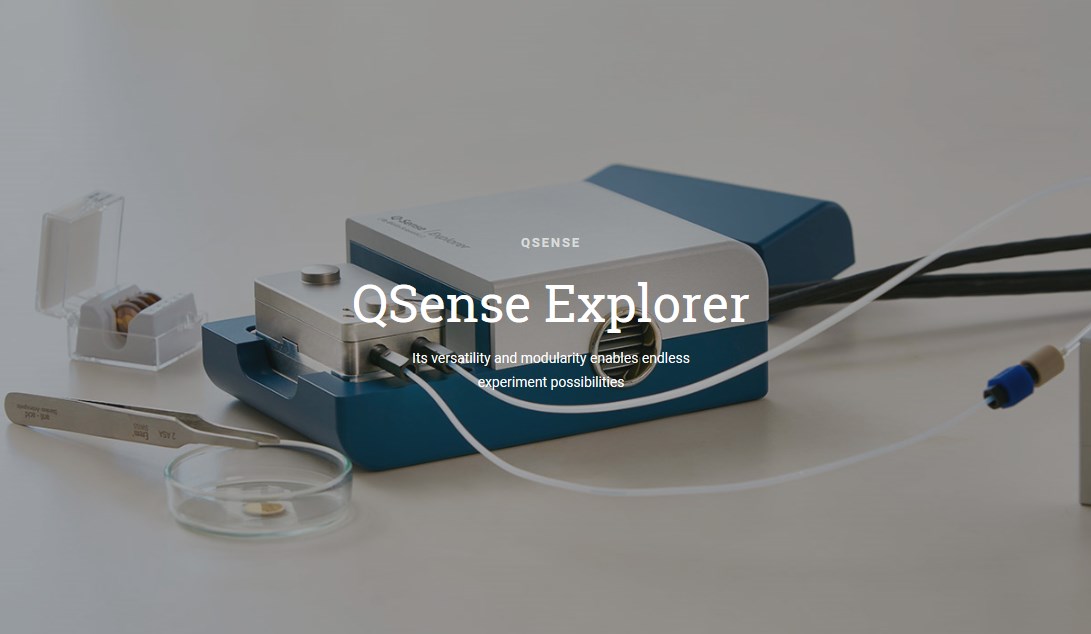 QSense Explorer
Versatile and modular quantification
QSense Explorer is the versatile instrument with endless possibilities. Thanks to a
modular design and optional measurement modules, it enables you to extend your
measurement conditions and combine measurements with several other technologies.
Endless experiment possibilities
Modular design with several options extends the measurement conditions and gives maximum flexibility.

Combination measurements
The compact chamber together with specialty modules enables simultaneous QCM-D measurements with microscopy, electrochemistry and ellipsometry.

Quantification of film properties
Data collection at high sample rate from 7 harmonics of the fundamental frequency gives maximum input
for data analysis and quantification of mass, thickness, viscosity and shear modulus of the adsorbed film.
Explore the versatility with QSense Explorer

QSense Microscopy Explorer
Enables simultaneous QCM-D and microscopy measurements on
the same surface. Equipped with a window module to give optical
access to the sensor surface which also opens up for light or
irradiation sensitive measurements.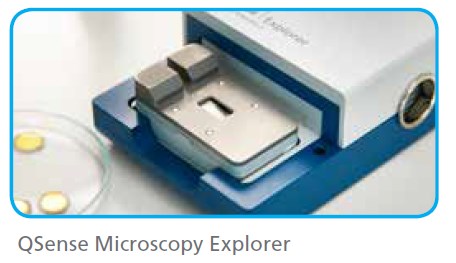 QSense Electrochemistry Explorer
For simultaneous QCM-D and electrochemistry measurements on
the same surface. Enables cyclic voltammetry and electrochemical i
mpedance measurements to explore polymer behavior, electrostatic
nteractions, corrosion etc.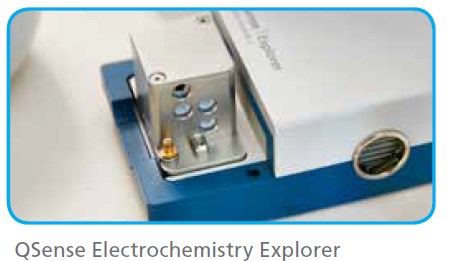 ​

QSense Ellipsometry Explorer
Enables simultaneous QCM-D and ellipsometry measurements on
the same surface, which allows for quantification of solvent content
in the film. It also gives a refined analysis of the adsorbed film's
morphological changes.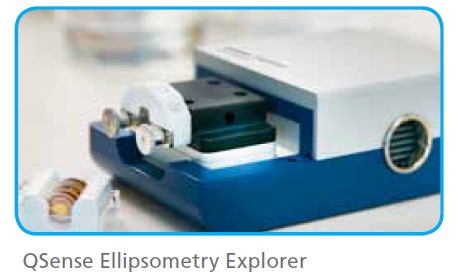 ​
QSense Extreme Temperature Explorer
Performs measurements at an extended temperature range of
4-150°C both in flow and stagnant conditions. This package consists
of a separate high temperature chamber used together with the
QSense Explorer electronics unit.
Additional modules

Humidity Module
Designed to enable measurements of vapor uptake and release
from thin films coated on the sensor.
​
Open Module
Enables pipetting of sample directly onto the sensor surface as

well as evaporation studies.
​
PTFE Flow Module
Flow module with an interior coating of PTFE. Suitable for
measurements sensitive to titanium which is the interior material
of the standard flow module.
​
ALD Holder (Atomic Layer Deposition)
For measurements in vacuum or gas phase.